Haitian History | Haiti 1804 - 2004
Jean Baptiste Pointe Du Sable - The Father of Chicago
The First Haitian to get his own "Black Heritage Stamp"

Jean Baptiste Pointe Du Sable (1745-1818)
Born about 1745-50, St. Marc, Sainte-Domingue (now Haiti)
Died Aug. 28, 1818, St. Charles, Mo.

Du Sable was born on the Island of Haiti. His Father was a French Sea Captain and his mother an ex-slave. Du Sable was educated in France before settling in America with his Native American bride, Catherine. Du Sable went on to be a successful pioneer and entrepreneur establishing the first permanent trading post on the Chicago River in 1779. He was officially recognized in 1968 by the State of Illinois for having been the Founder of Chicago.
The Wrigley Building

The Jewel of "The Mile"

The gleaming white Wrigley Building is one of America's most famous office towers. Located on Michigan Avenue on the north bank of the Chicago River, at the southern most point of Chicago's Magnificent Mile, the Wrigley Building consists of two sections connected by an open walkway at street level and two enclosed walkways.

The Wrigley Building sits on the approximate site of the home of Jean Baptiste Pointe Du Sable, Chicago's first settler. Some historians say that Jean Baptiste Guillory was here first, but he didn't stay long and no one knows too much about him, so First Settler Award usually goes to Du Sable. Du Sable's cabin was 40 feet long, and he owned 44 hens, 38 hogs, 30 cattle, two calves, and two mules -- Chicago's first tycoon.
At one time, the 16th-floor boardroom of the William Wrigley, Jr. Chewing Gum Co. also housed the world's finest chewing gum wrapper museum.


---


quick bio
JEAN BAPTISTE POINTE DU SABLE (1745-1818)
"The Founder of Chicago"
Du Sable was said to have been born a free Black in St. Marc, Saint Dominique (Haiti). He was the son of a French mariner and an African-born slave mother. His father took him to France to be educated. In the early 1770's he made his way up the Mississippi to the Chicago area. Here he established a trading post on the North Bank of the Chicago River mouth. His business prospered and became the center of a permanent Chicago settlement. His trading post was the main supply station for White trappers, traders, les coureurs des bois and the natives. Du Sable made many trips to Canada to bring back furs and it was reported that he was very closely associated with the French in New France. It was only in 1968, that he was finally recognized as the man who founded Chicago.


quick bio in french
JEAN BAPTISTE POINTE DU SABLE (1745-1818)
"fondateur de Chicago"
Du Sable disait-on, est né homme libre à St-Marc, Saint-Dominique en Haiti. Il était le fils d'un marin français et d'une mère africaine devenue esclave. Son père l'amena en France où il reçut son education. Dans le début des années 1770, Du Sable remonte le Mississippi jusque dans la région de Chicago. Là, il établit un comptoir commercial sur la rive nord de l'embouchure de la rivière Chicago. Son commerce devint prospère et fut à l'origine de la colonie permanente de Chicago. Son comptoir commercial était le poste de ravitaillement principal pour les trappeurs, les marchands, les coureurs des bois et les autochtones. Du Sable fit plusieurs voyages au Canada pour acquérir des fourrures et on raconte même qu'il était très étroitement associé aux français de la Nouvelle-France. Mais ce n'est seulement qu'en 1968, qu'il fut finallement reconnu fondateur de Chicago.
---
Other Sources:
Image source: Chicago Historical Society
Jean Baptiste Pointe Du Sable, a black man of Haitian and French descent, settled on the banks of the Chicago River in about 1773, when the land that would become Illinois was still a part of the British Empire. Married to an Indian woman, DuSable operated a thriving trading post and farm near where present-day Michigan Avenue crosses the Chicago River. DuSable's post served Native Americans, British, and American explorers, as well as Frenchmen who stayed on in the territory even after their armies' defeat in the French and Indian War. Sometime around 1800 DuSable left his settlement for Missouri. Historians do not know why he departed the Illinois country. Nonetheless, DuSable's pioneering effort made him the first non-Native American to settle the area that would become the metropolis of Chicago, Illinois.

where did he die...?
The intrepid frontiersman had the foresight to recognize the economic potential of the Great Lakes site. He also had diplomacy necessary to befriend the area Native-Americans who considered him one of their own. Du Sable spoke several Indian dialects, as well as English, French, and Spanish. He and his family were detained by the British for five years during the American Revolution because of their American and French sympathies. Despite this, the British spoke highly of du Sable's character, as did many others. In 1784, du Sable reclaimed his Chicago property and he and his family lived there until 1800. In 1796, du Sable's granddaughter was the first child born in Chicago.

In 1800, du Sable sold his Chicago property and returned to Peoria where he lived for a decade. Du Sable moved to St. Charles, Missouri in 1813, where his granddaughter lived. He died on August 28, 1818, the year Illinois became a state, and is buried in a small Catholic cemetary in St. Charles.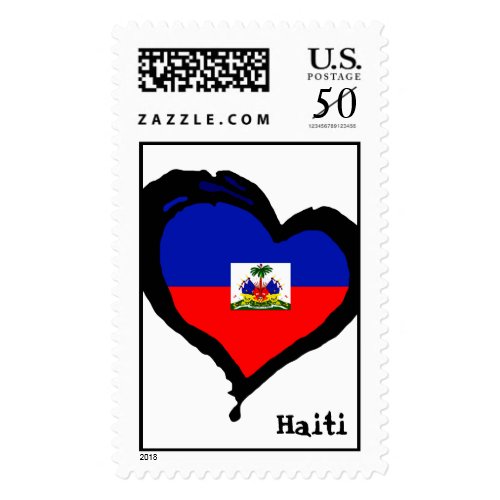 Love Haiti Stamp
designed by
nazaire
Get this
US Postage Stamp
only at
Zazzle
Haitian Online Shopping
Copyright © 2004 Haiti 1804 Kreyol.com. All Rights Reserved
Haiti Home | Info | Galleries |
---